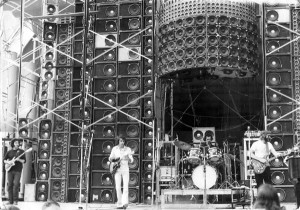 May 12, 1974, was a beautiful day in Nevada County. My brother Stan and wife Janet picked Ralph and I up and we headed up to Reno to see the Grateful Dead. During the ride, all we talked about was the Dead. We were so excited; this was our first Dead concert! We arrived at the University of Nevada and entered into the Football Stadium. Frist thing we saw were towers of speakers, and the roadies were still in the process of setting everything up. This was one of the first times they were using this new sound system, and had taken a lot longer than they thought to get everything ready. To kill some time we walked to the entrance where there was a large water fountain. Phil Lesh was up on stage testing his Bass out, but you couldn't hear anything. I looked over at the fountain and each time he hit a note on his Bass, the water had surface waves that vibrated toward the edges in response to the low Bass note. The band walked out 90 minutes late, and Bob Weir said, "What; we are right on time, Grateful Dead Standard Time!"
They played two songs, and then Weir said we are going to take a short break, pointing to the sound system, saying one of those speakers is not working! Twenty minutes later they came out and played their first set! The sound was great from where we were standing, but the Piano was a little loud. I worked my way up front by Jerry, and I yelled "Garcia" and he looked up and flipped me the bird. I took a picture, but that was one of the pictures that didn't turn out. Then Joe Taparo and I tried to sneak behind the PA system and get a picture of how they wired everything. Just as I was going to take this picture, security was right in front of us escorting us back to the field. We went back to our group of friends and I remember enjoying hot versions of "US Blues"  "Me and Bobby McGee" and "Deal".  I just remember standing there really digging my favorite band playing through this giant Sound System that was very clear, but the volume wasn't real loud. The band ended the set with Garcia's "Deal", and said they would be back in a few!
Second Set started with Chuck Berry's "Around and Around". This song really got the crowd going. Next song they slowed it down a bit with "Mississippi Half Step" then the crowd went nuts when they started to play "Truckin'"! Since the concert got started late, it was getting to be late in the afternoon. By the end of "Truckin'" the wind started blowing and was blowing right in the face of the band. They played four more songs and then went into Sugar Magnolia. Wow! What a rockin' version of Sugar, and then the band walked off the stage. The crowd was really into it and wanted more, but the wind was blowing really hard and the band never came back out. We walked out of the Stadium talking about how much fun we had and how good the band sounded. We said bye to everyone, and got in the car and headed for home. We were still talking about how much fun this concert was as we drove up to my parents' house. As Ralph and I were getting out of the car, Stan looked at us and said those famous words. "There is nothing like a Grateful Dead Concert"!!!